Scribner Auction is very excited to present the 11th Annual Unreserved New Years Day Antique & Collector Auction!
Live Online & Onsite at 121-15th Ave, Wainwright, AB (Hwy 14) on TUESDAY, January 1st, 2019.
As always, you can expect an amazing array of wonderful treasures to kick off the New Year! The fun will begin at 10am - Come Early for Preview. Doors Open at 8am!
Find us on Facebook for fun & exciting updates --> https://www.facebook.com/ScribnerAuction/
If you can't join us in person, be sure to tune in Live Online for all the Auction Bidding.
***The online bidding link will be added to this page closer to Auction Sale date***
Scribner Auction Ltd.: Conducting Many Specialty Auction Sales
Antique & Collectible, Variety, Estate, Auto, Farm, Gun & Sportsman, Coin & Currency, Storage Units, Art, Dispersal, Surplus, Real Estate, Farm Toy, Sports Memorabilia & Fundraisers. Call today to book your Auction Sale!
SCROLL DOWN FOR PICTURES
It may take a few moments for the gallery to load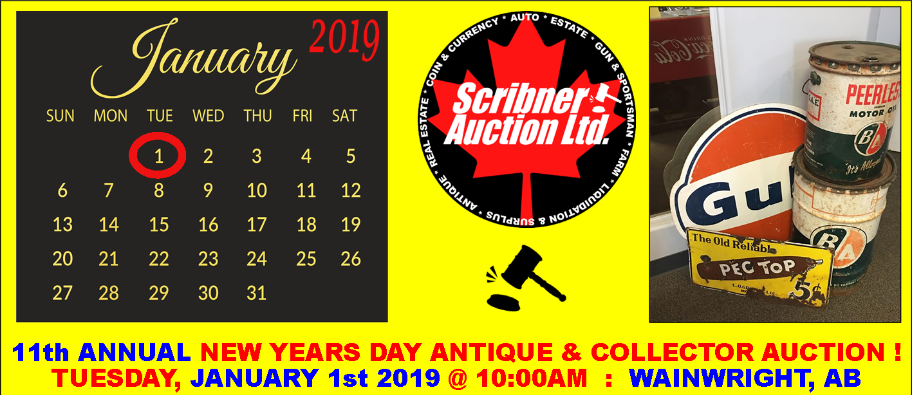 KEEP WATCHING FOR ONLINE CATALOG & REGISTRATION