SODBUSTERS HOMESTEAD - COMPLETE DISPERSAL AUCTION
SATURDAY : NOVEMBER 3 - 2018
HARDISTY, ALBERTA (NW 31-42-9-W4)
From Hardisty: 3.5kms East on Hwy 13. Then 1.5kms North on Range Road 095A
Auctioneers Note:
As requested by Sodbusters Homestead of Hardisty, AB, Scribner Auction is pleased to be conducting this Unreserved Dispersal Auction. This is a very Unique & Diverse Auction Sale that will no doubt peak your interest! This Sale will be offering Quality Ranch Items, Modular Camp, 2 Room Cabin, Camp Washroom, Tractors, Trucks, Trailers, Tools, Bed & Breakfast Furnishings and Much Much More! Mark Your Calendar for Saturday Nov 3rd 2018 and plan to attend this one of a kind Country Dispersal Auction Sale just East of Hardisty, AB! Majority Auction to be conducted indoors! No Buyer's Fee & Totally Unreserved - Sale Starts at 10am. Scribner Auction & it's staff would like to wish Wyatt & Theresa all the best.
See you Sale Day . . . Kevin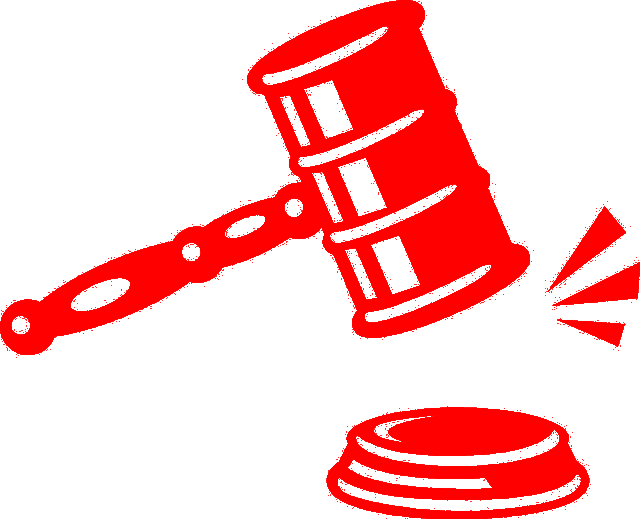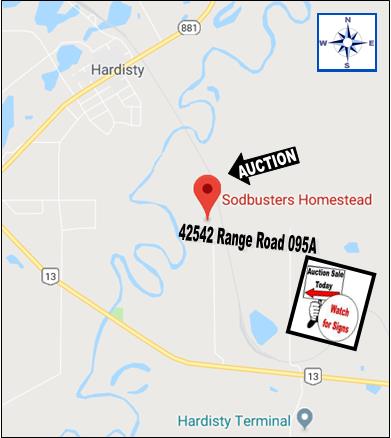 Sodbusters Homestead Complete Dispersal Auction – PARTIAL LISTING & PICTURES
This is a partial listing & is a guide only, which can be subject to changes, additions or deletions.
Sodbusters Homestead Complete Dispersal Auction – PARTIAL LISTING & PICTURES
This is a partial listing & is a guide only, which can be subject to changes, additions or deletions.
Tractors: 2008 CASE IH Farmall 90 Tractor w/92" Bucket, Grapple & Forks (Hour Meter Shows 2600 Hrs); Massey Ferguson 253 Tractor – Diesel (1200 Hrs Showing on Meter)
Cars: 1982 Ford Fairmont 4 Door (ODM shows 3767kms); 2002 Volkswagen Golf (Collision Damage – Registration Current)
Trailers: 1981 Fruehauf 45' Semi-Trailer GVR 36,600kg (Last Insp. 2016) (with 2 Sets Alum. Stairs); 16' Flatdeck Trailer – Tandem Axle (No Registration); Husky Tank Trailer (As Is – Damaged – No Registration)
Modular Camp: 1980 Modular Camp 10' x 52' Skid Buildings each side (4 Rooms Each side) - Currently setup as 6 Man Camp + 2 Convert Rooms (Bath/Kitchen) (Possible for 8 Man Camp) Includes 10' Breezeway Deck
Camp Washroom: 2005 Washroom Skid Building 12' x 32' (Women/Men Sides, Both with Washer/Dryer, On Demand Hot Water, Fully Equipped & Ready!)
Cabin: 2 Room Cabin: 12'8"W x 17'L x 14'H (Full Bathroom) (Tin Roof & Vinyl Siding) Selling with Complete Contents (Bed, Mini Fridge, Microwave, Night Stand, Elec Fireplace, RCA TV, Air Conditioner, Bathroom, Sat Dish, Window Coverings) + Front Deck 6' x 12'
UFA Buildings (2): 12'x 20' (White Siding, 6' Roll Up Door, Side Man Door)
Trucks: 1992 Ford Cargo 7000 Bale Truck - High Tilt CL – Bale Rack & Power Lift Gate (ODM Shows: 52,787kms); 1972 Chevrolet C60 Grain Truck (ODM Shows 3768 Miles) (w/Box & Hoist); 1981 Ford F250 (Runs Good!) Food Truck; 1985 Chev C30 (Propane – No Tranny) Food Truck
Swather: 1976 Versatile 400 Hydro Static (18' Header)
3Pt Hitch Attachments: Woods BH1050 Backhoe (3pt) - Hydraulic to PTO Shaft (540PTO); Land Pride 8' Blade (3pt); Buhler Farm King 5' Discer (3pt)
Granaries: Twister 4000 Bushel; Westeel 2600 Bushel; 1000 Bushel; 2 Wooden
From the Barn/Riding Arena: HI-HOG Horse Stalls (12 @ 12' Fronts; 6 @ 10' Fronts; 12 of 10' Dividers; 12 of 12' Dividers); Soft Stall Matting; Large Variety of Tack & Saddles & Horse Blankets (Incl. Winter Blankets); Grooming Tools; Bridles & Halters; Saddle Stands & Much More!
Barn/Corral Items: Large Variety of Panels/Gates; Troughs; Feeders; Barrels; Feed Mill; Cattle Squeeze; 10'x16' Horse Shelter
Lawn/Garden: STIGA Articulating Lawn Tractor w/Mower; Cub Cadet RZTS Zero Turn 50"Cut; Allis Chalmers Ride On Mower w/Tiller; 6'x8' Poly Panel Greenhouse; Planters; Variety Hose; STIHL Trimmer; Agri-Fab LawnSweep 38"; Lawnboy Push Mower.
Tools & Misc: IH Double Sided Dealer Sign 46" x 51"; Hot Tub: 6 Person HydroPool; Truck Box Topper 76"; Variety of Hi-Hog Picnic Tables; Electric Fencing; Barbed Wire Fencing; Weeping Tile; New Holland Sickle Mower; Poly Water Tanks; Belting; 6" Hydraulic Post Hole Auger; Slip Tank (Diesel); Driveway Float; Ox/Acetylene Torch Set; Variety of Power & Hand Tools (Bench Grinder, Chop Saw, Table Saw, Scroll Saw, etc); Tool Boxes; Tool Chest; Ladders; Ext Cords; Tracker Boat w/Trolling Motor; Traeger BBQ; Harrows; Vintage Sled (Ski-Doo Elan/MotoSki) & Much More!
Bed & Breakfast Room Contents: Selling Each Room Furniture Contents – 7 Rooms (Incl: Bed, TV, Armoire, Dresser or Side Table)
Furniture/Household: 3 Piece Leather Sofa Set (Sofa, Love Seat, Chair); TV&Stand; Single Beds & More!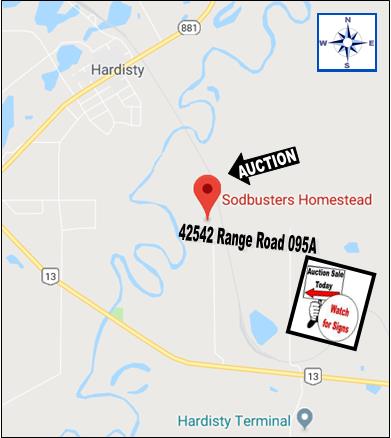 SODBUSTERS HOMESTEAD - COMPLETE DISPERSAL AUCTION
SATURDAY : NOVEMBER 3 - 2018
HARDISTY, ALBERTA (NW 31-42-9-W4)
From Hardisty: 3.5kms East on Hwy 13. Then 1.5kms North on Range Road 095A
Scribner Auction Ltd.: Conducting Many Specialty Auction Sales
Antique & Collectible, Variety, Estate, Auto, Farm, Gun & Sportsman, Coin & Currency, Storage Units, Art, Dispersal, Surplus, Real Estate, Farm Toy, Sports Memorabilia & Fundraisers. Call today to book your Auction Sale!