KEEP WATCHING MORE MANY MORE EXCITING AUCTION SALES !
CALL TO BOOK
YOUR 2020 AUCTION SALE NOW !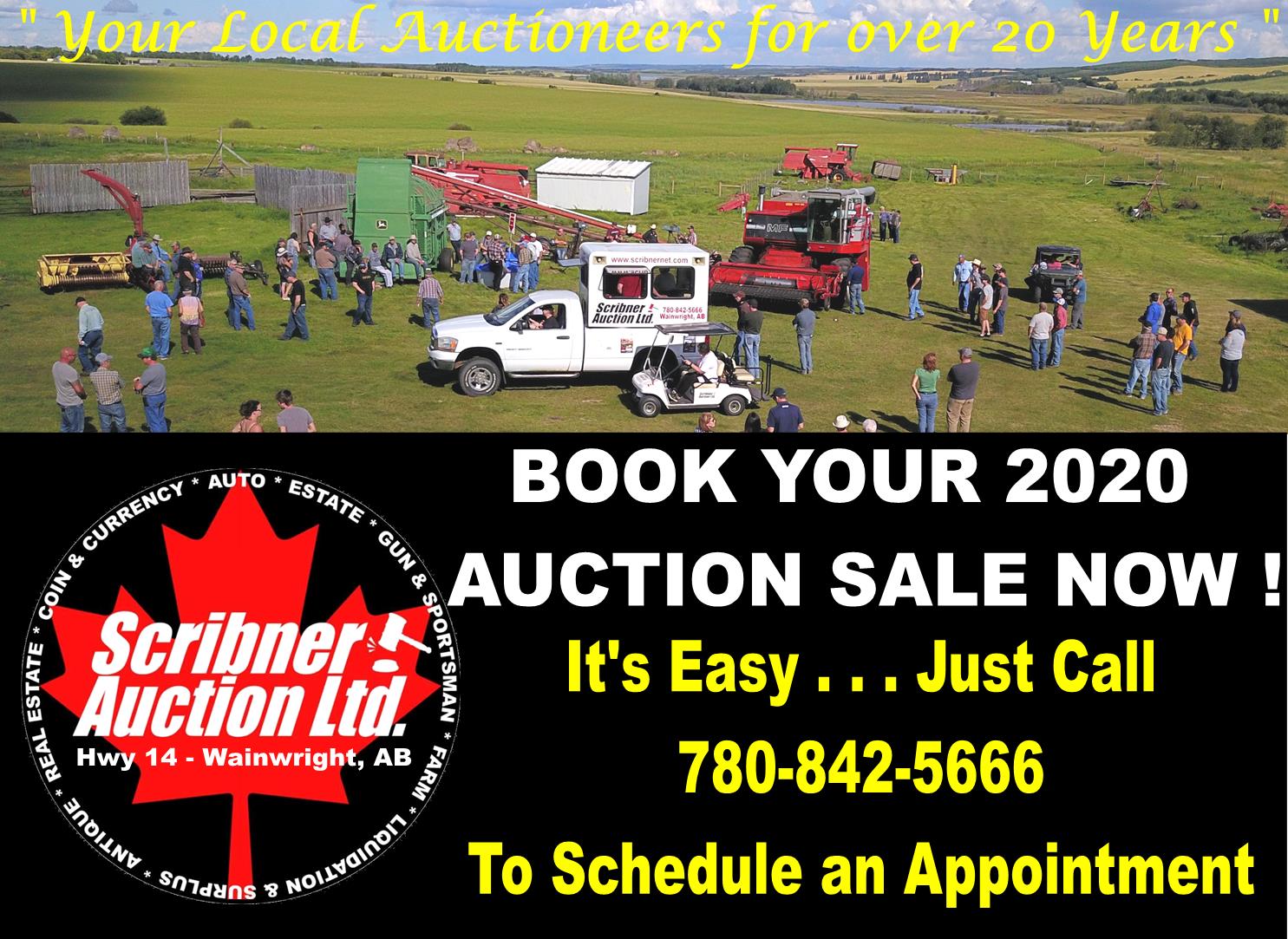 To our many Valued Customers, Friends & Crew:
We have spent some very careful & considerate time pouring over the upcoming Scribner Auction Spring 2020 Auction schedule and have made decisions that we believe will best suit all of our bidders & sellers going forward in light of the State of Emergency we are all facing as Canadians as well as a Global Community.
First let us start by saying that in the over 20 years in the Auction Sales business, we have never cancelled, delayed or even postponed an Auction Sale. So this is for sure uncharted territory, and we take it very seriously, but are definitely up for the challenge!
Regarding our March 28th Gun & Sportsman Auction Event we have had to make an adjustment to postpone this Auction just a little bit . . . It will now take place LIVE ONLINE ONLY on Saturday April 11th. In addition to this we will be conducting a Coin & Currency Auction on Friday Evening April 10th LIVE ONLINE ONLY. Due to the ever changing situation and mandates from Federal and Provincial Governments, we have decided that we cannot have live in house participation from the floor in our Auction Pavilion.
This decision has been made for with the health and wellbeing of our crew and of course our customers. Kevin, Katrina & Tegan are all committed to both our Buyers & Sellers and will strive to conduct our business with the upmost integrity and go forward with the best intentions for all of our customers. We will still have our Auctions "LIVE" with an Auctioneer calling the Sale, and you can listen & bid live from any computer or smart phone/tablet. We intend to try and plan some "appointment only" pre-sale viewings closer to the Auction Sale Date. However, this will depend on the state of the general public health at that time, and when we can be more confident in allowing these preview appointments to happen. Times and dates for these previews will be announced as the catalog is completed and uploaded.
If we can provide preview appointments, they will be limited to a certain number of people and be subject to a reasonable time limit. During this time, you will be able to view the items, submit absentee bids or register and place "online" or "online maximum bids". We will also place a tutorial video on the webpage to help with the Online Bidding process. Of course, we will know more during the week of the Auction, so please keep watching our website for updates and "refresh" your screen each time you visit, as it may change often. Pickups will be by appointment ONLY and again, more details will come closer to the Auction Sale Date.
For other Auction Sales that were booked for April, please note that they have been postponed and WILL be rescheduled as soon as possible!
These measures have been taken only as a reasonable alternative, and we appreciate everyone that continues to support the Auction Sales and look forward to serving you all as we go forward into uncertain times. Thank you for your past & future patronage, we look forward to seeing you all again on the other side of this . . . Take care, Kevin, Katrina & Tegan.
If you have any questions, please call our office at: 780-842-5666 or email us at : scribner.auction@gmail.com or visit our website: www.scribnernet.com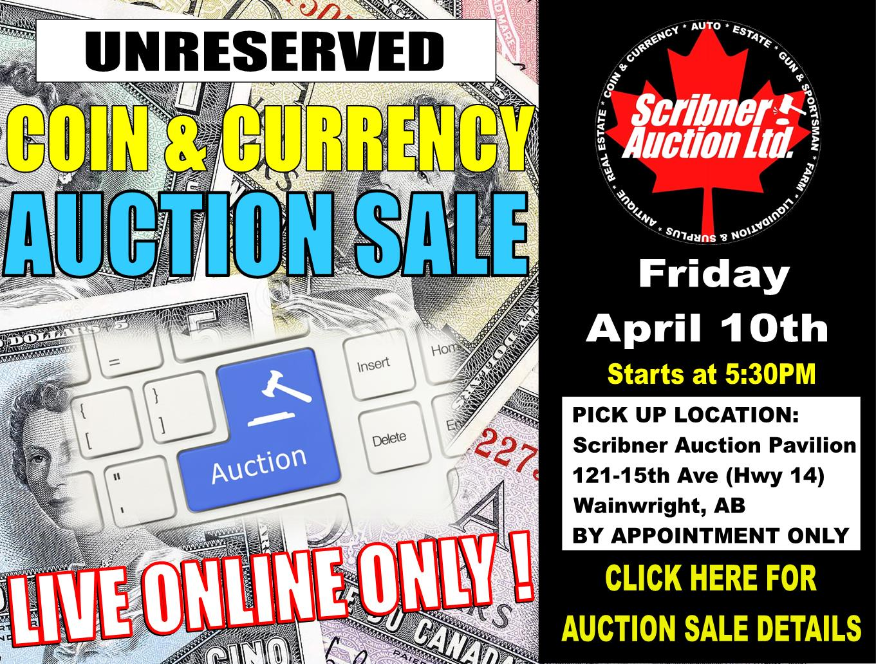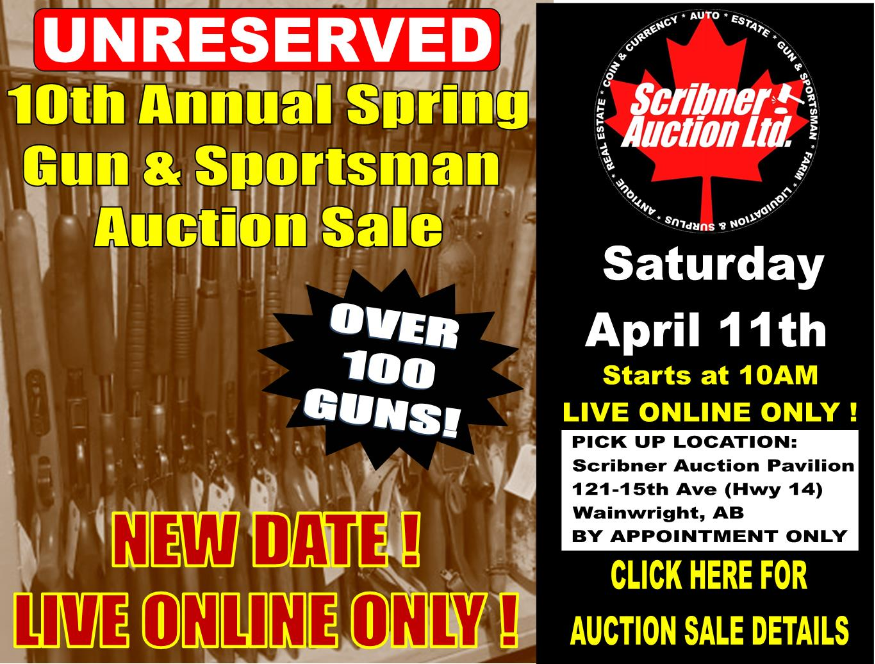 NEW DATE TO BE ANNOUNCED SOON

NEW DATE TO BE ANNOUNCED SOON

NEW DATE TO BE ANNOUNCED SOON