Location : Wainwright Self Storage
601 - 1st Ave, Wainwright, AB
Auction Note :
At the direction of Wainwright Self Storage we are conducting this totally unreserved Storage Unit Auction, due to unit fees being unpaid at time of sale! Each Unit will be opened at sale time and NOT before! Contents of each unit will be sold "ONE MONEY"
Terms: Cash/Debit/Visa/Mastercard - NO BUYER'S FEE
This Auction Sale will be LIVE ONSITE ONLY
Subscribe to our Email List !
Sign up to be notified about upcoming auctions from Scribner Auction
TERMS & CONDITIONS OF SALE
1. Terms of the sale are Cash, Debit, MasterCard, Visa or Certified Cheque. ID will be required.
2. Each unit will be opened prior to sale for inspection from the doorway only. The storage units may NOT be entered for inspection, nor may boxes be opened or contents rifled for prior inspection. All purchased contents are sold "as-is-where-is," without warranty or guarantees of any kind, express or implied, or with representation as to their suitability or fitness for any purpose whatsoever. Unless announced to the contrary, Buyer is bidding on the entire contents of each unit, not on selected pieces. Operator reserves the right to bid.
3. Buyer must remove all contents and leave the unit in clean, presentable manner within 7 days of the day of the sale. If not a rental agreement will need to be agreed upon with Wainwright Self Storage. At its sole discretion, Operator may treat contents left after the removal deadline as abandoned, and subject to resale or disposal, in which event no refund of purchase price will be made to Buyer.
4. When the Auctioneer says "sold" title on the property shall pass to the highest bidder. All risk of loss to the contents of each purchased unit becomes Buyer's responsibility. Operator has no liability whatsoever as to the contents. Should a tie or dispute arise between two or more bidders the Auctioneer may reopen the bidding between the high bidders until the property is sold. The decision of the Auctioneer shall be final & absolute.
5. The Auctioneer reserves the right to add or withdraw any item before or during the sale, to regulate the bidding and to accept or reject any and all bids.
6. NSF cheques or stoppage of payment will be turned over to the legal authorities and all costs will be at the purchaser's expense.
7. GST will be charged where applicable.
8. The Auctioneers, their agents, the owners of the premises and all persons for whom the Auctioneer may be acting shall not be liable to any person for damages to their person or property while in, on or about the premises, nor shall they be liable for hidden defects. All persons are on these premises at their own risk.
9. Bidding is done publicly and each winning bidder will be required to sign a buyer agreement immediately following the auctioneer saying sold. The winning bidder agrees to any further conditions required by Wainwright Self Storage with regard to possession of the unit for the time after payment has been made to Scribner Auction Ltd.
10. If you purchase a vehicle, boat, or any other item which should be registered at Motor Vehicles, the Storage Facility will give you the necessary paperwork for this transaction. It will be your responsibility to take this paperwork to Motor Vehicles, to obtain the title. It may take a few days before Motor Vehicles issues your title, depending upon the workload and the previous history of the item (they may have to conduct record searches).
11. Bidding on any item indicates acceptance of these terms and conditions. Any additional terms or conditions of sale shall be announced prior to the auction.
12. I (we) agree to assign any or all properties, goods or chattels to the selling agent (Wainwright Self Storage) under the Personal Property Securities Act in order that they may recover any monies owing against purchases.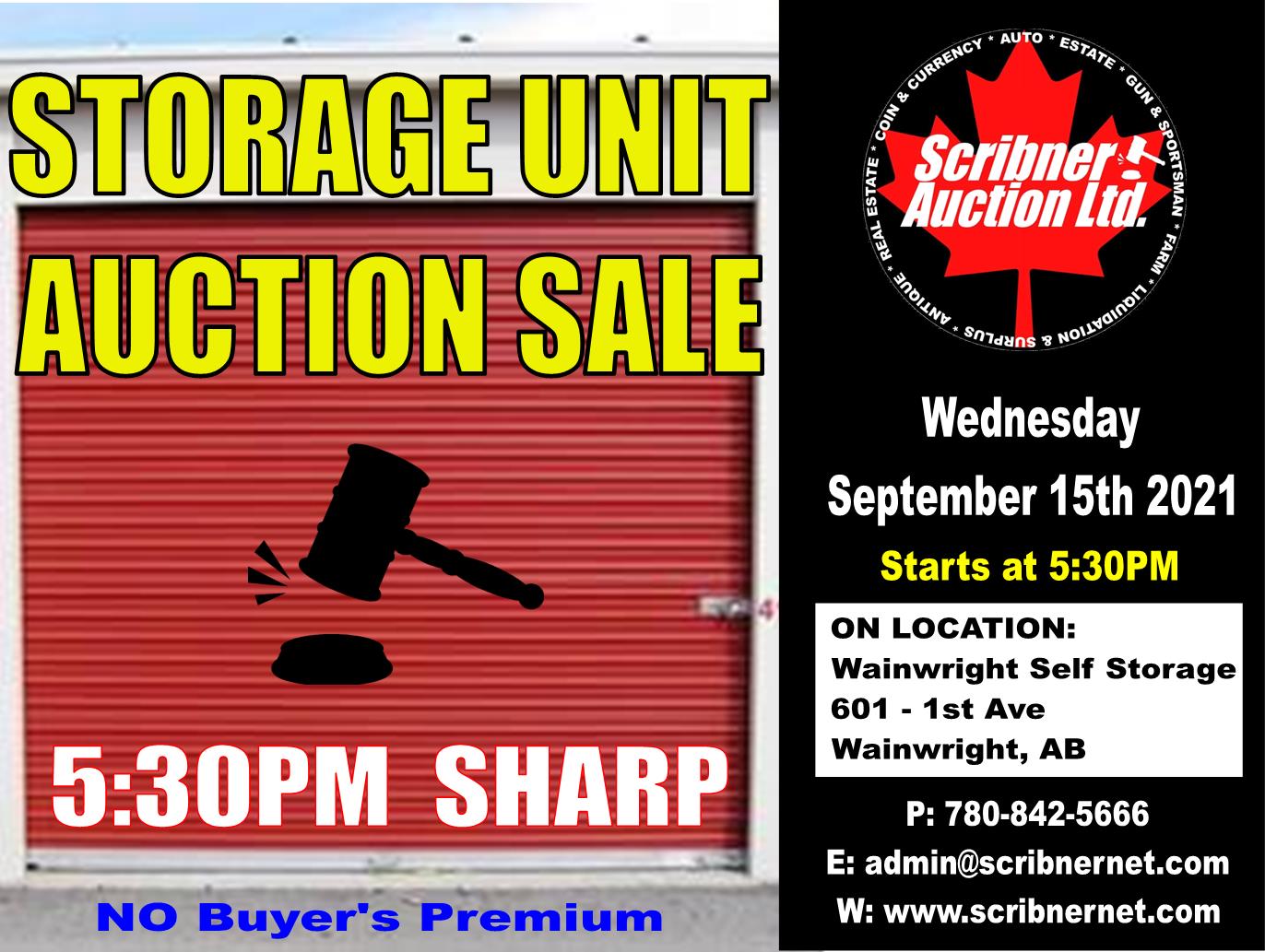 UNRESERVED & NO BUYER'S FEE !