Unreserved

Auction Sale

for Verleysen Farms
On Location : 31kms SE of Vermilion, AB
PARTIAL LISTING
John Deere 6150M Tractor w/JD H360 FEL & Grapple Bucket (2862hrs); John Deere 310 SE Turbo 4x4 Backhoe Loader; John Deere 324G Skid Steer (223.9hrs); Skid Steer Attachments (48" Forks, John Deere GU60 Utility Grapple, Virnig 78" Drop Bucket); Cattlelac 460 Feed Wagon; 2015 Ford F-250 Super Duty Lariat (133,209kms); 2014 Charmac 20ft Aluminum Stock Trailer; REAL Industries Portable Cattle Handing System; 1979 GMC 7000 V8 High Sierra Grain Truck; Westeel-Rosco 2000 Bushell Hopper Bottom Grain Bin; Highline Bale Pro CFR650 Bale Processor; 24' Free Standing Panels (10); Westfield TR100-51 Auger; 30ft Flexi-Coil System 82 Harrows; 2014 Arctic Cat 450 Quad 4x4 (352hrs); 24'x9' Feeder; Westeel 500gal Tank (Unused); Mel-Cam 25ft Cultivator; Cattle Feed Bunks (32'L x 5'W x 2'D); 40ft Sea Container (Single Sided Door – 8'H); New Holland 352 Mixer; Pencil Auger; Earthquake Kohler XT Series Rototiller; Variety of Gates, Panels & Feeders; Cattle Squeeze; Variety of Mixed Steel & Iron; Fence Posts; Assorted Tractor Tires (2); Long Handled Garden Tools; Spools of Cable; Wheelbarrow; ATV Ramps; Hose; Tarps; Chainsaws (3); Aluminum Truck Tool Box; Tire Chains; Jerry Cans; Castors; Hitches; Pratt & Whitney Co Tap & Die Set (5/16" to 1"); Chain; Variety of Power & Hand Tools; Bottle Jacks; Shop Fluids; Hydraulic Ram; Angle Iron; Levels; Drill Press; Aluminum Table; 6" Bench Grinder; Battery Charger; Oxygen/Acetylene Cart and Gauges; Lincoln Arc Welder; Milwaukee Cut Off Saw; 5 Gallon Portable Air Tank; Metal Rolling Shop Table; Vises; Iron Horse Standing Air Compressor; Magnetic Floor Roller; 9000 Watt Generator; Extension Cords; Delta 10" Table Saw; Frigidaire Furnace; Jackalls; 4' Pipe Wrench & Much Much More!

A NOTE FROM THE AUCTIONEER:
Scribner Auction will be conducting this UNRESERVED Auction
for VERLEYSEN FARMS on Saturday July 16, 2022 starting at 10am Sharp!
Sale will take place at the Farm Site: NE-6-49-4-W4 (31kms SE of Vermilion, AB) Watch for Signs.
This Auction will include many Quality Pieces of Equipment such as :
John Deere Tractor, Skid Steer, Backhoe, Bale Processor, F-250 Super Duty, Seacan
& Many Quality Tools and Much Much More!
Mark your calendar and plan to attend this Auction in person.
(This Auction Sale will be LIVE ONSITE ONLY . . . Not Online).
See you Sale Day . . . Kevin
Partial Listing is subject to Additions/Deletions/Changes
DIRECTIONS (From Hwy 41):
East 23kms on Sec Hwy 619 to Sec Hwy 893
North 3kms to Twshp Rd 490
West 2kms to Rg Rd 45
then 1km North to Auction Site
*** Follow "Auction Sale Today" Signs ***

COMPLETELY UNRESERVED ~ NO BUYER'S FEE
Subscribe to our Email List !
Sign up to be notified about upcoming auctions from Scribner Auction
John Deere 6150M Tractor w/JD H360 FEL & Grapple Bucket (2862hrs)
John Deere 310 SE Turbo 4x4 Backhoe Loader
John Deere 324G Skid Steer (223.9hrs)
Skid Steer Attachments (48" Forks, John Deere GU60 Utility Grapple, Virnig 78" Drop Bucket)
2014 Charmac 20ft Aluminum Stock Trailer
REAL Industries Portable Cattle Handing System
1979 GMC 7000 V8 High Sierra Grain Truck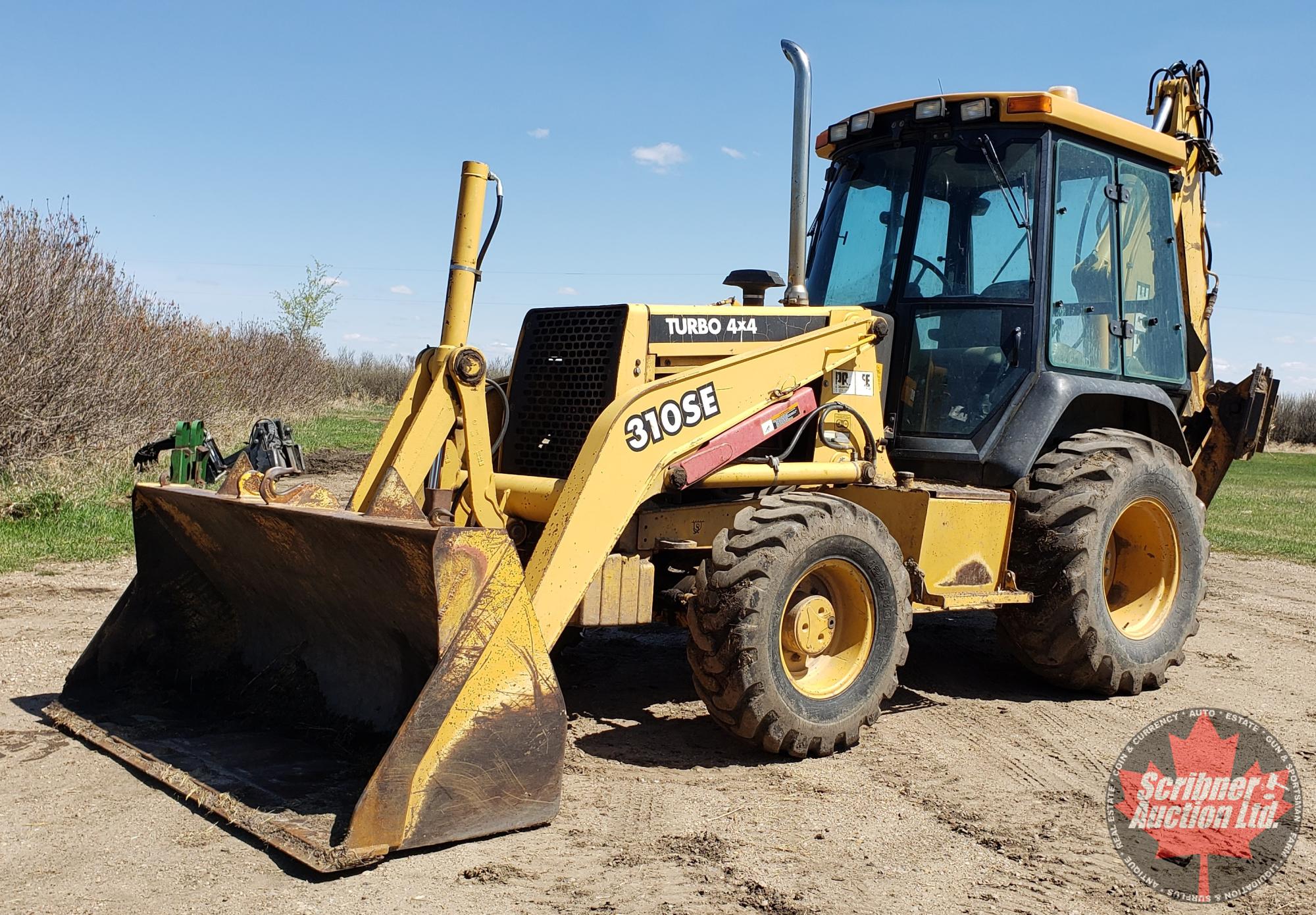 2015 Ford F-250 Super Duty Lariat (133,209kms)
Highline Bale Pro CFR650 Bale Processor
30ft Flexi-Coil System 82 Harrows
2014 Arctic Cat 450 Quad 4x4 (352hrs)

COMPLETELY UNRESERVED ~ NO BUYER'S FEE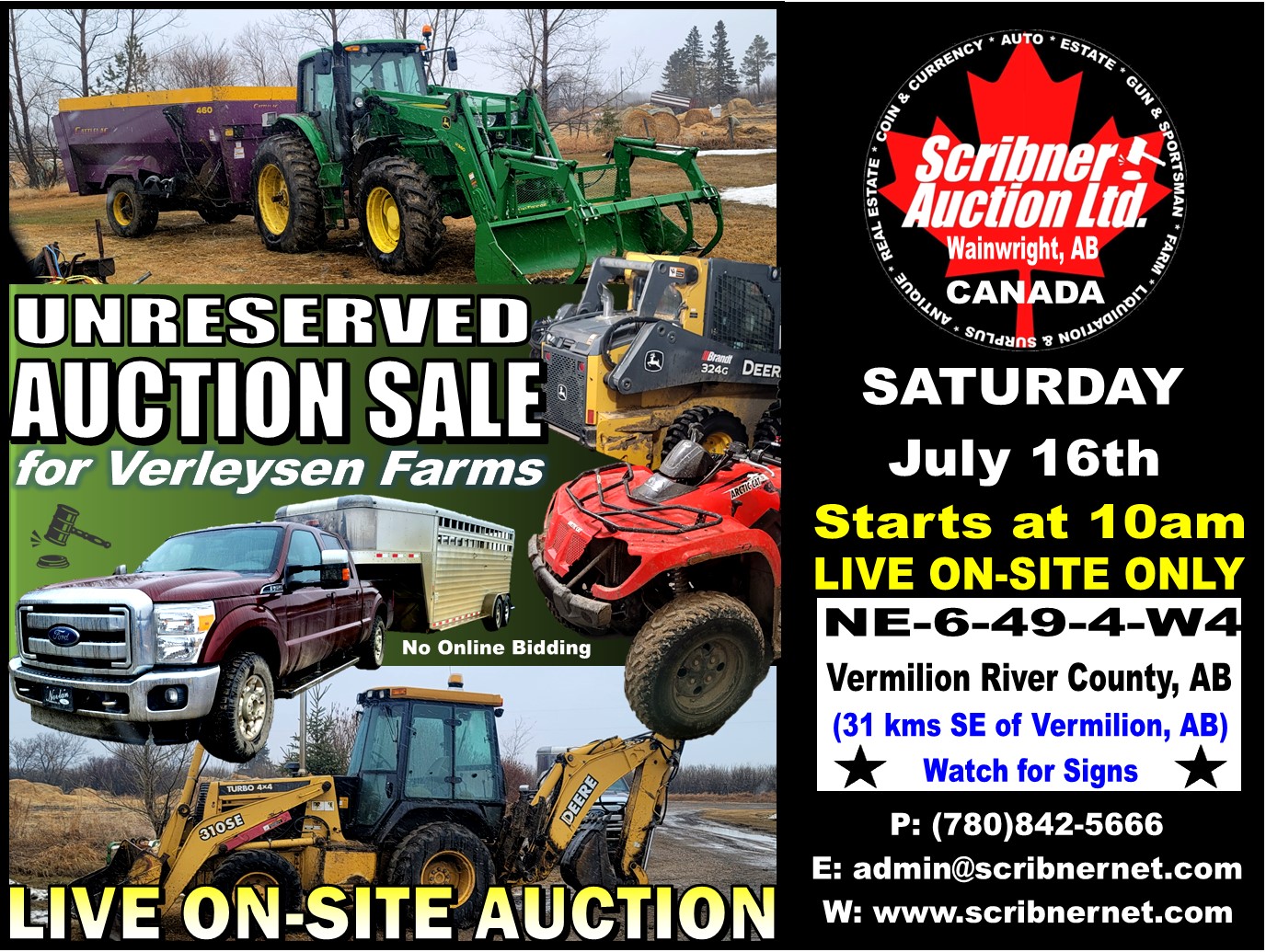 Resized_20220622_115412.jpeg
GUEST CONSIGNOR PARTIAL LISTING :
John Deere 10ft Mower w/Offset Handi Hitch; Highline 10ft RCH Mower w/Chemical Applicator; Brandt 3pt Hitch Sprayer (75gal); Wheatheart Front End Loader Mount Post Hole Auger (9" & 12" Bits); Flexi-Coil Post Pounder; Panels