BIDDING :


In Person,

Online

& Absentee
ABSENTEE BIDDING :
Absentee Bid - A procedure that allows a buyer to participate in the bidding process without being physically present. The person submits in advance a written or oral bid that is the top price they are willing to pay for any given item.
Absentee Bid OR Phone Bid Terms & Conditions:
1. The Absentee Bidder agrees to be bound by the Bidder Registration Terms & Conditions (found on the notices page of this website).
2. Absentee bidders will remain anonymous and proxy bids will be kept confidential.
3. All bidders or an agent for the bidder absentee or otherwise is responsible to inspect all items prior to sale. All purchases are final. No Warranty given No Warranty implied.
4. There will be a 15% per item charge for all proxy & phone bids. An additional 2.5% administration fee is applicable for any and all MasterCard/Visa transactions.
5. A Scribner Auction Ltd. representative will be appointed as a designated proxy bidder for that auction and will bid competitively on behalf of the absentee bidder or will be processed into the online bidding platform should online bidding be available.
6. The Absentee Bidder acknowledges that they will not have any claim against the auction company or designated proxy bidder should the proxy bidder fail for any reason whatsoever to place that absentee bid. Scribner Auction will make every effort to place your absentee bid, but offers no guarantee. The proxy fee will be void for any item which is missed.
7. All Absentee bids must be accompanied by a valid visa or mastercard number along with expiry date. A form of identification may be requested.
8. All Absentee bids which may exceed $5000 will require a letter of credit reference from the bidders banking institution in addition to #7 above.
9. All purchases must be paid in Canadian funds.
10. All purchases must be paid in full on sale day. If no other payment arrangement has been made with the auction company, the total purchases owing plus any applicable taxes or administration fee's along with the 15% per item proxy fee will be charged directly to the absentee bidder's credit card.
NOTE: Shipping & Handling will be the Bidders Expense and the Auction will assist with arrangements, pending Bidders approval.
11. All purchases must be removed from the auction pavilion within 48 hrs of the sale.
12. Scribner Auction Ltd. reserves the right to decline any absentee bid application.
13. All Absentee Bid Applications must be registered & approved by 8 pm. (local time) the day before the applicable auction sale.

NOTE: All regular terms & conditions apply to any bidding process. (see Terms & Conditions page on this website)
Fill in the web-form below with your personal information, the items you wish to bid on with a maximum bid amount and a credit card form of payment (or call the office to make other payment arrangements). If you are absentee bidding on any firearm or ammunition, you must provide a valid PAL # & Expiry Date.

If you require assistance with the absentee bidding process, please call the Scribner Auction office at 780-842-5666.

NOTE: Absentee Bidding is only available when Online Bidding is not. If you are unable to bid online, you can still submit your bid with a Scribner Auction representative and they will add your Bid(s) into the Online Bidding System and online terms still apply.
In Person Bidding at Farm/Acreage/Away Auctions :
It's Easy! Just come on down and the girls in the office will help you Register and are glad to answer any questions you may have!
ONLINE BIDDING :
Terms & Conditions
Online bidders registration must be accurate.
Online Bidders must have a valid credit card (Mastercard or Visa) to register.
There is a 15% Buyer Premium Charge applied to all online purchases. Additional fees will apply if paying with credit card.
All Bidders must understand that internet bidding may be subject to error due to loss or delay of internet connection. Pre-bidding/Absentee bidding is available before the Auction begins.
Payment is due in full at the conclusion of the Auction Sale or Auction Session in the case of a multiple day Auction Sale.
After an item has been sold, that item is the sole responsibility of the purchaser. All merchandise is sold AS IS/WHERE IS. No Guarantees or Warranties Given or Implied. Scribner Auction is not responsible for missing parts. No bidder shall retract his/her bid. All sales are final.
Listing & Descriptions are a guide only and are subject to changes, additions or deletions.
You must rely on the pictures provided to inspect the items. Therefore each Purchaser shall be held to have satisfied themselves as to the condition & specs of all items based on pictures provided. If in person preview is not possible, please review the pictures provided.
The Auctioneer will not knowingly accept a bid from any Consignor or Agent for the Seller.
Each Online Auction may be subject to Special/Additional Terms & Conditions. Please review for EACH auction.
HOW TO REGISTER FOR ONLINE BIDDING:
Creating an account is quick and easy!
Here is how:
1. Go to the create new account page if you haven't already done so. Create a username/password combination, enter your name and provide us with a valid email.
2. Review the user agreement and privacy policy. Check off that you have read and accept the user agreement and privacy policy.
3. Click the Create Account button at the bottom of the page.
4. A confirmation email will be sent to the email address you provided. The email contains a link that you need to click to confirm your account. If you do not receive the email please check your spam box.
5. After you have confirmed your account, you will be signed inand ready to proceed.
Bidding Online BEFORE the Auction :
An absentee bid is a bid placed before the start of an auction. Bidders are allowed to place absentee bids on an item up until the item is opened for live bidding. When live bidding begins the system will bid on the Bidders behalf up to the amount of their absentee bid. If the system can win you the item for less than the absentee bid it will.
To place a bid, navigate to the item you are interested in. Enter the amount you are willing to bid and click the Place Max Bid button. You will be prompted to confirm your intention to bid, click ok to finalize your bid. That's it!
If you would like to increase your bid you can do so through the same routine. You will not outbid yourself. For example, if you are the current high bidder at $200 and you left a maximum bid of $250 and you would like to increase it to $400, just enter $400 then click the Place Max Bid button, confirm, you will still be current high bidder at $200 but your maximum bid will be updated to $400 from $250.
If you would like to view the items you have bid on and their corresponding absentee bids, sign in to your account.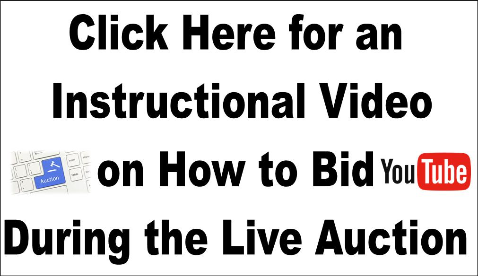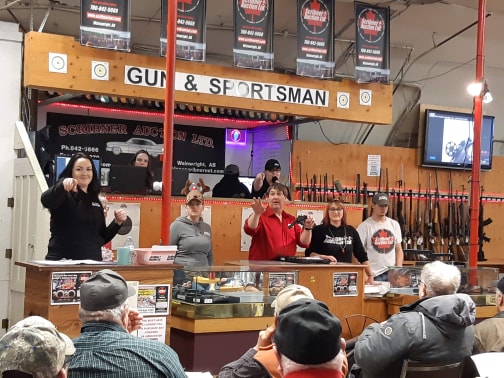 Subscribe to our Email List !
Sign up to be notified about upcoming auctions from Scribner Auction
FIREARM SHIPPING/REGISTRATION FORM